Lava Flow w/staff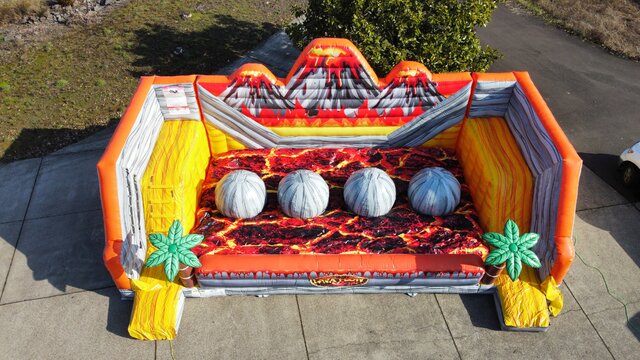 Setup Area: 15'H x 25'W x 45'L
Actual Size: 12'H x 21'W x 39'L
Monitors: 1
Outlets: 2
Description
The Floor is Lava !!
Posted Price $695.00 includes delivery, set up & with S&K staffing event for a period up to 2 hours in length. You can make your option selection after adding this item to your shopping cart. Optional Pricing below:
PRICING OPTIONS: WE DELIVER, SET-UP & STAFF EVENT
2 hour: $695, 4 hour: $895, 6 hour: $1095
Deliveries outside 10 miles from Corvallis add $4.50 per mile for out of town deliveries. Example 20 miles away - Fee 10 miles x $4.50 = $45 delivery fee.
An obstacle course challenge unlike any other! With 3 large Volcanos in the background this inflatable can to intiminating. Designed to challenge and entertain, this giant obstacle course features four huge lava inflatable boulders surrounded by a red ball pit resembling a moat filled with lava. Players start on one side and must jump or run across the big boulders to make it to the platform on the opposite side without falling in the 'moat of lava.' But even if everyone falls without making it across, they'll still have a ball. The boulder pit is cushioned with our patented Zero Shock technology and feels like falling onto a soft pillow. The sides of this red and yellow obstacle course are cushioned and designed to make sure players who fall off the big boulders safely into the Zero Shock zones. As much to watch as it is to play, the Lava Flow obstacle course will make your next event fun for everyone!
Set Up Details: The number of people in this inflatable is limited to 1 at a time. Maximum weight is 225 lbs. per person. Children must be at least 4 years of age to play on inflatables.This inflatable can be set up on grass, a driveway, school black top, or inside a gym. A set up area of 15 feet high by 25 feet wide by 45 feet long is required. Two regular 20 amp circuits are required with nothing else running on it. Normally, your backyard outlet will work fine! The inflatable must be plugged into the power source at all times during operation. For instances where power is not available, we have generators available for rental.
Park & Street Set Up: Set up in a park requires permission from the park. A copy of the permit that shows approval of the bounce house needs to be provided at the time of reservation. Set up on a street requires a permit from the city and for the street to be completely shut down with city provided barricades. No cars can move within the set-up area the length of time the inflatable is set up.