Tic Tac Toe and 4 Spot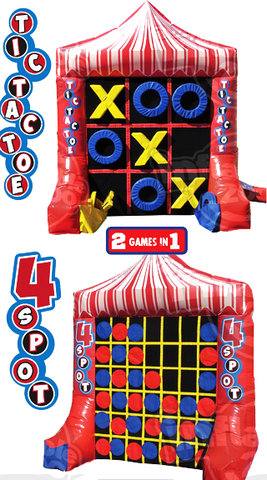 Setup Area: 9' H x 5'W x 10'L
Actual Size: 9' H x 5'W x 10'L
Monitors: 1
Outlets: 1
Description
Have Fun With Tic Tac Toe & 4 Spot!
Posted Price $125.00 is for Customer pickup & return for a rental period up to 6 hours in length. You can make your option selection after adding this item to your shopping cart. Optional Pricing below:
OPTION 1: Posted Price of $125 with customer pick up & return. Good For Up To 6 Hours ($25 each additional hour)
OPTION 2: We Deliver, Set-Up & Pick-Up - Customer Staffs Event - Good For Up To 6 Hours: $155 - ($25 each additional hour)

If you require staffing $30 per hour.
Deliveries outside 10 miles from Corvallis add $4.50 per mile for out of town deliveries. Example 20 miles away - Fee 10 miles x $4.50 = $45 delivery fee.
4 SPOT
A challenging game of vertical strategy that's easy to learn and fun to play. Rules are simple. Each player tries to build a row of four playing pieces in the frame - horizontally, vertically, or diagonally - while trying to prevent their opponent from doing the same.
Object of the game: Be the first player to get four of your colored game pieces in a row - horizontally, vertically or diagonally.
Tic Tac Toe:
Tic Tac Toe or X's and O's was originally a game only played on paper. Now this traditional game is resized to Giant proportions and can now be played on any surface indoors or out. The game takes on a whole new dimension when it is played in Giant size with GIANT foam game pieces. The inflatable game is easily transportable, lightweight and playing area measures about 6'x 6' square. Each player gets 5 giant X's and 5 giant O's. The X player usually goes first and in order to win, all you need to do is place 3 of your game pieces in a row horizontally, vertically, or diagonally. Great for customer pick up & easy set up.
Set Up Details: The number of people playing is limited to 2 to 4 people aged 4 to 99. This inflatable can be set up on grass, a driveway, school black top, or inside a gym. A set up area of 9 feet high by 5 feet wide by 10 feet long is required. A regular 20 amp circuit is required with nothing else running on it. Normally, your backyard outlet will work fine! The inflatable must be plugged into the power source at all times during operation. For instances where power is not available, we have generators available for rental.
Park & Street Set Up: Set up in a park requires permission from the park. A copy of the permit that shows approval of the bounce house needs to be provided at the time of reservation. Set up on a street requires a permit from the city and for the street to be completely shut down with city provided barricades. No cars can move within the set-up area the length of time the inflatable is set up.